History of the Jail
The mid 1980's saw a rise in local jail populations and the jurisdictions of Richmond County, Westmoreland County, and the Town of Warsaw were no exception. These localities recognized the need for increased housing capacity but increasing capacity of two separate jails was not fiscally feasible. Discussions between the entities began that resulted in the pooling of resources to construct a regional facility to serve the jurisdictions concerned.
In 1993, after several years of meetings, drawing of plans, surveys, etc., a site was purchased in Richmond County and construction on the regional facility began. The construction took about 2 years and in July 1995 the jail opened its doors for business. The jail encompasses several different correctional designs for incarceration such as dormitory, direct supervision, and podular remote.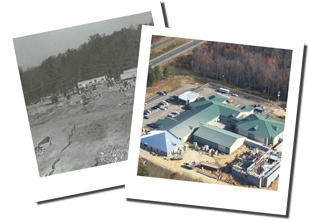 The jail began operations with a staff of 42 and an inmate capacity of198. A federal contract to house prisoners was secured and in 1996 an addition was added to the jail that increased personnel compliment to 74 and inmate capacity to 268.
In the year 2000 a third expansion was completed. Staffing level was increased to 100 employees and inmate capacity rose to 460.
Jurisdiction Membership in the jail has increased since we first opened. In July 2000 Northumberland County became a member and in July 2016 Gloucester County became the latest member of the Regional Jail.