Volunteer Information
Volunteers have the opportunity to work in a great variety of positions, covering a wide range of services offered to inmates of the Northern Neck Regional Jail. Whether you have volunteered for a specific job, or simply volunteered leaving the job assignment to the staff, you will be assigned to a task with a set work schedule. All prospective volunteers will be required to undergo a security screening and a basic orientation prior to beginning their duties. As part of the screening process you will be required to submit to a criminal history records check.
Volunteers at The Northern Neck Regional Jail are assigned to one of the following areas: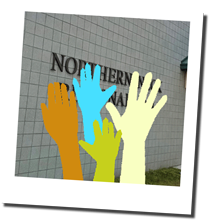 Religious Services
Substance Abuse Counseling
Tutoring or Academic Training
Staff Assistance
Guest Speakers
Security is the first and foremost consideration in every action taken or decision made in a correctional setting. Security is something that every person, volunteer or otherwise, must learn to live with, especially if that person plans to work in such a setting for any length of time. There are always security considerations to be met and as a guideline, we ask that you adhere to the following practices:
Never bring anything into the facility for an inmate without specific permission from the Shift Supervisor or higher authority.
Never carry messages in or out of the facility for inmates.
Never give anything to an inmate without first getting permission.
Follow instructions promptly and never argue with the security staff.
There are, of course, many other things that could be added to the above list. Just remember that the security staff has sound reasons for actions that they take. What may seem simple or harmless to you, may in reality present a threat to you or others. Many times, in jails, simple items can be turned into very dangerous items. Messages passed can mean something other than their stated intent. Be patient and talk to the security staff. Ask questions if you don't understand, but DO COMPLY with the orders of the staff.
All volunteers that are allowed into the secure sections of this facility must obtain a valid Jail ID Card from the Inmate Services Department. No volunteer will be allowed into the secure sections of this facility without their Jail ID.
If you would like to apply to be a Jail Volunteer please click the below link and submit an application today.